When we were watching the movie Tamasha, amidst a bored and disengaged audience I think I was the only one who was completely engrossed in Ved's story. The movie is about Ved, the protagonist who is bundled in a set routine and a fixed life with no space for spontaneity or following dreams. While the Ved, Tara (female lead) met 4 years ago was so not like the present Ved. The struggles Ved goes through to be that 4 years back Ved is what the movie is about.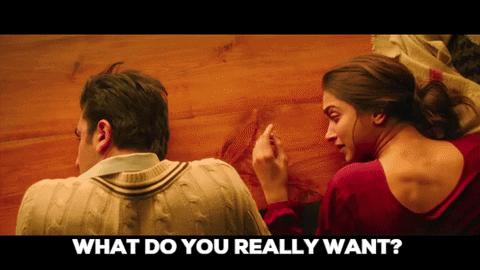 Image Via Hindustan Times
The movie may not be Imtiaz Ali's best of works, but the message it portrays and delivers is powerful.
The story touched a chord in me as I could so identify with Ved. Throughout my school life, I have been this serious geek girl who did not play sports or did any fun activities. I was bananas about my studies (humor intended) and that is what I did. I was shy and kept to myself. This was not due to any social pressure or parental nagging, it was just the way I was! Or the way I thought I was! Slowly this shy and silent self became my identity and I got wrapped in this personality stamped as studious forever.
I remember a time during our school picnic when some fun loving girls were dancing in the bus while returning from our picnic spot back to the school. And in the spur of the moment, I too stood up and started dancing which was so not me. I enjoyed it. But my enjoyment was short lived as the next day one of the guys in my class came and asked me
what was wrong with me? Why did I have to dance like that with those girls in the bus. Why this did not suit me at all!
It was when I realised I have been trapped in this personality forever. At that moment I knew I will be always like this and will have to live with it.
Since then I stuck to my serious personality with a fear of what people will think and say if I do what I really wanted to do. I wanted to do journalism but instead I went for the classic Microbiology realizing soon that it was not my cup of tea. I did not take up journalism as I was told that I am not cut out for it and should instead go in Research. After graduation, I had to shift gears as Research was not what I envisaged myself doing. I finally jumped into the MBA bandwagon and completed my MBA in HR, still being the Pradnya who took grades very very seriously.
I worked 5 years in corporate doing my work diligently and always being on my toes and bouncing new ideas. I received accolades from my seniors and I thought it was natural and the only way to move on with my life. I still was the Pradnya who took my job very seriously and always kept on thinking what my colleagues think about me, are my seniors happy with my work, am I doing enough at my workplace?
And then life changed upside down. I left all that back and came to US. I think coming to US on a dependant visa has been a turning point in my life. I started writing and I think it is then that I started loosening up in real sense. I have an extremely liberal and supportive husband and that made the whole difference. Post marriage itself I had started to unwind a little but it was never extreme. As I started writing again, I felt a sense of elation and euphoria. Finally I was doing what I really loved! It slowly started unblocking my apprehensions and letting each strand of my hair down. It gradually liberated me and I started breaking out of my mould and reinventing myself or rather being my real self.
A girl who would seek everybody's approval at one time, today does not care for anyone's approval as long as she knows what she is doing is right. A girl who wore what society prescribed, wears quite 'unapproved' wardrobe today without thinking twice of what will people say. A girl who kept to herself, goes out today and boosts others' morale. A girl who had a set routine all day long, does impromptu crazy (ok, not so very crazy) things today. A girl who never smiled from the heart, laughs like a crazy woman today!
2 years ago when I had come to India for my sister's marriage, I was here for 2 months and I met only 3 close friends of mine in those 2 months. That's it! Today when I am in India, my writing has taken me to places and made me meet new people. In a span of 15 days, I met many friends - some old and some new! The change is noticed by everyone at home and outside. My parents are awestruck with this new Pradnya and my in laws think I have been reincarnated ;) They love the new bubbly always smiling me :)
Did I always wanted to be this Pradnya? Deep inside, maybe yes! Would I have been this Pradnya if I had not come to US? May be not. Am I happy being this new Pradnya? Oh hell, YES YES YES!!!
For all those who are still in their forced avatar self, let your hair loose once and see what magic happens. I know following our passion can be difficult and we have financial and family responsibilities, but at least once try to pursue what you love! Do it part time, do it as a hobby or if it is possible make it your livelihood.
There is nothing in this world which is as satisfying as doing what you love!
Ved and me are following our passions, he happy with his tamasha and me happy with my words! Are you following yours???